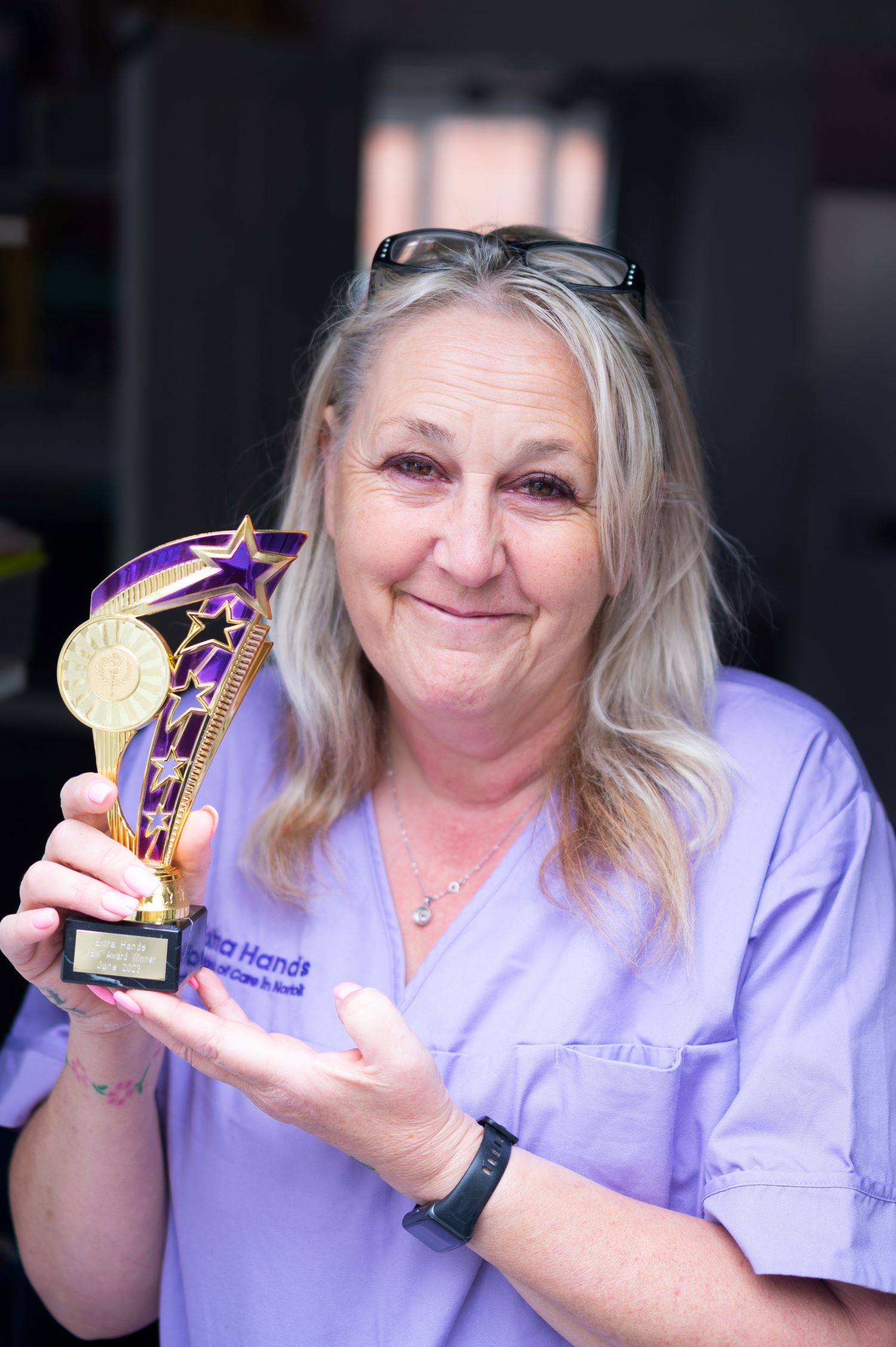 A West Norfolk shop worker turned carer has won an award for her outstanding performance in her new job.
Julie Hughes joined the Heacham branch of Extra Hands just over two years ago, having previously worked nights for a supermarket and briefly taking a job at a different care firm.
She was awarded the 'Going the Extra Mile' GEM Award by Extra Hands for her dedication in supporting and training new colleagues.
Her nomination for the accolade came from a co-worker whom she had helped, and was full of praise for the 54-year-old.
"Julie has taken her time in explaining how to use the Birdie app, and explaining everything that I need to know during my induction shadowing shifts," read the nomination, which also described her as "a kind, caring and calm person, who is always willing to help and to answer questions to her best ability" and concluded "anyone will be lucky to have Julie to train them when they start at Extra Hands".
Mrs Hughes, of Downham Market, said: "It's an absolute privilege to have won, as it means I'm being appreciated, and that gives you that extra little boost. The person who nominated me wrote some lovely things about me. I was just buzzing and absolutely on a high for a few days!"
She continued: "I'm passionate about training and ensuring that they know everything they need to know – and there is a lot to know.
"I always tell them to treat service users like you would treat your nan and grandad, and how you'd like them to be treated. You're not 'only a carer' – you've got to have love in your bones. It's a very hard job, but it's very rewarding. I absolutely love it."
And it's not just Extra Hands appreciating Mrs Hughes, as she is equally appreciative of her employer.
"Extra Hands is definitely a good company to work for," she added. "They do actually care about us.
It's a personal, family-run business and it shows. All the carers are lovely, I love working for Extra Hands and I'm not going anywhere!"