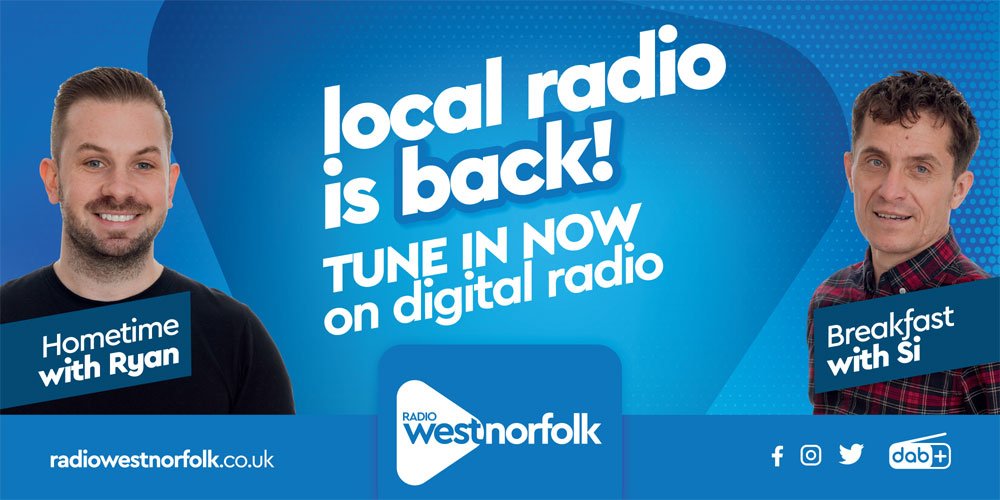 We have some very exciting news, news that we've been looking forward to for over a year now!  After much work, negotiations, blood, sweat and tears, well a few phone calls we are very happy to announce Radio West Norfolk has arrived on DAB!  If you currently listen to DAB radio and find the reception to be sketchy, you needn't worry about receiving Radio West Norfolk as we are broadcasting from transmitters in the centre of King's Lynn , not on the ones you currently tune into from Peterborough/Norwich/Cambridge or Lincolnshire.

We are broadcasting using the latest DAB+ technology and you'll find us listed in your station list by our name. Look for either…
Radio West Norfolk
RWestNfk
You may need to 'rescan' to find us the first time you try to listen.
To receive DAB+ stations you must have a DAB+ enabled radio. The simplest way to be sure, is too look for the Digital Radio Tick Mark on the radio or its packaging. All radios that bear that Tick Mark are able to receive FM, DAB and DAB+ stations.  If you are buying a new digital radio, look for the Digital Radio Tick Mark as this means the radio is DAB+ enabled and will receive the available DAB, DAB+ and FM radio stations. If the product does not have the Tick Mark, then read the product description carefully and check that it specifies DAB+.
If you're radio isn't DAB+ compatible, only DAB, there are software downloads available to upgrade
It's also possible to listen to Radio West Norfolk on the go via 'CarPlay' using the apps below
In the meantime we are still available the following ways…
Online – www.radiowestnorfolk.co.uk
Alexa – "Alexa Launch Radio West Norfolk"
Google Nest  – "Hey Google Talk to Radio West Norfolk"
Freeview – Channel 277 (in some ITV regions)
Android – https://play.google.com/store/apps/details?id=com.autopo.st.RadioWestNorfolk&hl=en_GB&gl=US
iPhone –Radio West Norfolk on the App Store (apple.com)
Our latest addition to listening options is your SKY BOX!
Watch this shot video to see just how simple it is, you'll need to search for Radio West Norfolk the very first time you try.