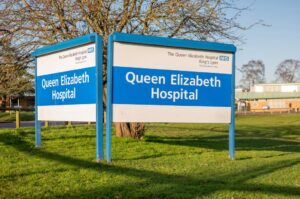 A West Norfolk company is supporting the Queen Elizabeth Hospital's Stroke Unit through its fundraising.
Allen Tomas and Co has raised £1400 from the proceeds of its annual charity golf day.
It was chosen as the unit cared for the aunt of managing director Ben Allen in 2016.
Beth Park, Ward Manager on West Raynham ward, said: "We are so grateful for the very kind donation that will allow us to purchase equipment that will assist us in providing high quality care for our patients right the way through their stay with us."
A decision will be made on where to spend the money. Previous donations received by the ward have been spent on recliners and chairs for patients, among other equipment.