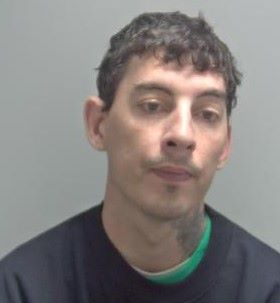 A man has been jailed for six years after threatening multiple bus passengers with a meat cleaver and producing a knife in the street.
Marcus Cork, 32, of Northgate, Hunstanton, was sentenced at Kings Lynn Crown Court on Tuesday 14 March 2023.
The judge also concluded that Cork met the criteria for 'dangerousness' which was reflected in the length of his sentence. He will have to serve at least four years until he is eligible to apply for parole.
Cork had previously admitted to three counts of robbery, possession of a knife, threatening a person with a knife, and damaging property.
The court heard how on Thursday 13 October 2022 at around 13.35pm Cork boarded an Excel bus bound for Peterborough at Norwich Bus Station, buying a single ticket to Kings Lynn.
Whilst on the upper floor of the double decker, he threatened a female passenger with a meat cleaver stealing her phone,  and tried to take a wallet from another woman.
He then threatened the driver with the meat cleaver attempting to steal cash, but only getting away with a bag of sweets.
After smashing the door and causing damage to the frame, he got off the bus in Newmarket Road when the driver pulled over.
Shortly afterwards he approached a group of young women, taking a phone from one of them and punching her in the neck. After being followed by the group he produced a knife.
He admitted to a linked attempted robbery later as a TIC (taken into consideration) with the Operation Converter, TIC Unit.
The incidents were captured on bus CCTV and in the street on mobile phones.
In interview he failed to give an explanation for his actions and answered 'no comment' to all questions put to him.
The officer in charge of the investigation PC Faris Shah welcomed the sentence. He said: "Cork caused multiple members of the public to fear for their safety and suffer loss or damage to property with no regards for his actions.
"Aggravating the impact was the fact the incidents took place in the day and were witnessed by young children causing distress."