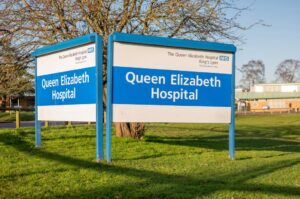 A document setting out the official case for a new hospital in West Norfolk is complete.
Known as the Strategic Outline Case (SOC) it sets out the costs for a new building, how the development would be managed, and full time-scales of what will be done when.
Completing the document means the hospital is ready to go if it is one of eight new sites earmarked in the country for a new build, which would ease worries about the current site which is estimated to reach the end of its life in 2030.
QEH chief executive Caroline Shaw CBE, said: "This is an important milestone as we continue our work to secure the funding we desperately need for a new hospital. Our SOC focuses on ensuring that QEH is best placed to continue to fulfil its role in the area while improving clinical outcomes and patient, visitor and staff experience in a hospital that is fit for many decades to come.
"The SOC sets out our preferred new hospital scheme for a single-phase new build on our existing hospital site which will cost £862m. This is the only solution that will bring a new hospital to King's Lynn and West Norfolk ahead of the 2030 deadline and is the option that brings least disruption to patients and staff during the build and construction period. It also provides best value for money and return on investment.
"The new scheme will help to ensure that there is always a District General Hospital in King's Lynn and West Norfolk, delivering core services to our population. The new hospital would provide a once in a generation opportunity to transform and modernise healthcare, recognising regional historic under-investment in health and care in this part of the region. Consistent with our Clinical Strategy, it would enable QEH to become a centre of excellence for frailty and stroke, day surgery and regional anaesthesia, research and innovation, and same day emergency care."