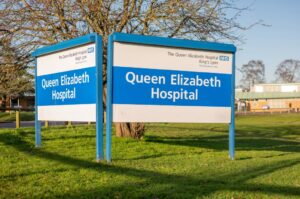 MPs across the region have been sent a letter demanding an announcement on what is going to happen with the Queen Elizabeth Hospital in King's Lynn.
Currently thousands of props are helping to shore up the building and there has been a long-running campaign pushing for a new hospital to be included in a future Government building programme.
Jo Rust, Secretary of the King's Lynn and District Trades Council, is concerned there has been no announcement about a new hospital and, with looming local council elections, is concerned a final decision could now be put off until well into 2023.
In the letter, she urged them, along with the Secretary of State for Health, Steve Barclay, to make an announcement in January. She said: "Make it clear that you value the people in the 150km2 area that is served by the QEH and that you value the 330,000 odd people who rely on these services.  Please do not leave this until after the local elections."
She is also worried about the knock-on effects for both patients and the West Norfolk economy if there is not a new hospital. "My family, my friends and myself, rely absolutely on the full range of services being offered from our local hospital.  We can't afford private healthcare.  My friends and family rely on the jobs offered their – and your local economy is reliant on it too."
More hospital building projects across the UK are due to be announced but there has been no date given for when this information will go public.