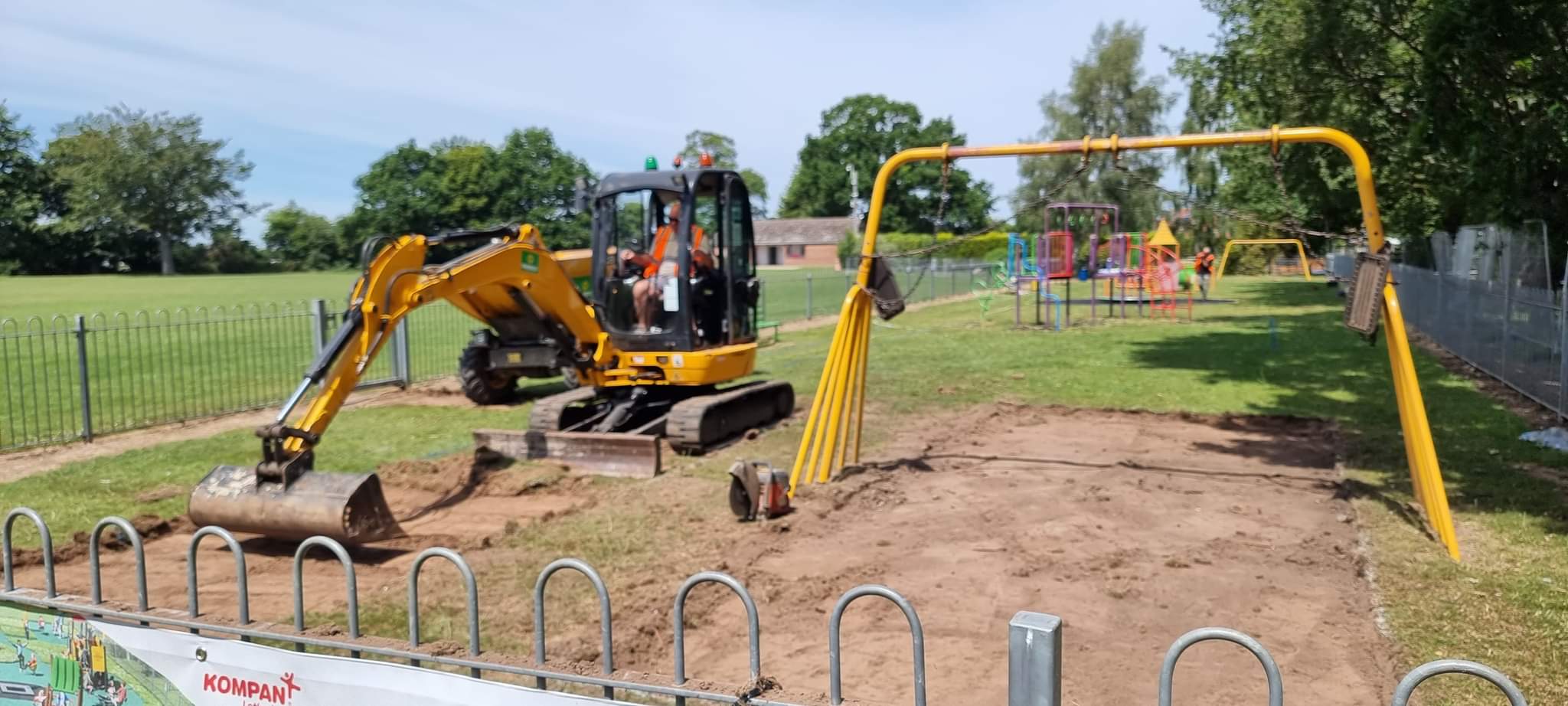 Villagers celebrated as work to replace the play area in Clenchwarton finally broke ground
on Monday after more than 12 months of planning to replace the existing facilities that
are now over 20 years old.
Diggers have now moved into position at the Hall Road site and the first phase of
renovation is well underway with the existing apparatus being dismantled and removed.
New equipment from supplier Kompan is scheduled to arrive within the next few days
pending installation and testing.
Caroline Coates from the Clenchwarton Play Area Renovation group said "We are
extremely proud to have facilitated the installation of a new play area in the village. The
new play equipment will accommodate children aged from 2 years old to 15 years old and
includes safe and inclusive equipment for children with special needs and disabilities. Play
is a very important part of a child's development and fun in play areas with family and
friends can provide many happy memories. We look forward to seeing the
work completed with plenty of time left of the summer holidays for children to go and
play."
The project which has cost over £120,000 is happening thanks to grants from FCC
Communities Foundation, a Community Infrastructure Levy grant from West Norfolk
Borough Council, a Section 106 grant from Trundleys and funding from Clenchwarton
Parish Council too. Fundraising has also taken place in the local community including
children from Clenchwarton Community School who have staged several events to help
contribute towards seating and a recycling point too.
FCC Communities Foundation is a not-for-profit business that awards grants for
community projects through the Landfill Communities Fund.
Penny Horne, the spokesperson for FCC Communities Foundation, says: "It's always nice to
see something we have funded start to take shape. We're delighted to be supporting such
a worthwhile project and look forward to it benefitting children and families within
Clenchwarton and the surrounding villages."
The new equipment will feature items such as a multi-play digger, a triple tower
climber, a wheelchair-friendly carousel and a zip wire has been designed to also cater for
those with special needs and disabilities in an effort to make the play area a safe and
inclusive space for all.
Work is expected to be completed within a month with an official opening ceremony
planned for August.