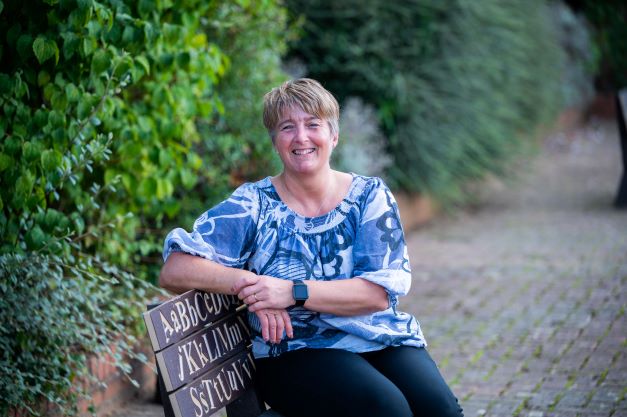 A West Norfolk carer is celebrating two decades at a care company despite once telling colleagues the job was not for her.
Nina Stephen said: "After my first week in the role, which was with a different company, I really wasn't staying! – and that was 23 years ago!
"I'd say to anyone considering care work, give it a go. Until you've done it, you don't know what your capabilities are. Now I really enjoy it, and I'm not going anywhere – I'm quite comfortable where I am!"
Mrs Stephen first worked in hairdressing, and said she found it a logical transition into the care industry.
"I did mobile hairdressing, so I was used to going in and out of people's houses. Sometimes I would see carers and think, 'I could do that!' It seemed a natural progression, and it was easy to slot in around childcare."
Having started as a part-time carer when her children were young, Mrs Stephen switched to full-time with Extra Hands  in 2008.
"I was hitting 40 and my kids were off to high school," she said, "so it seemed the right time to go full-time."
Five years later, she moved into Rapid Response, working from the Heacham office.
"There are two of us, and we're on call from six o'clock onwards, in case anyone goes off sick," she said of her role. "It could be we do a full round, or just part of a round before it gets reallocated to someone else.
"Also, we do first visits of new service users, to meet them and hopefully their families too. Every person is different and needs different things, so it's about working it all out. We support new staff, and check on them to see if they need help, and we also monitor staff on a regular basis, to make sure they're not struggling with anything.
The 53-year-old, who lives in Briston, specially enjoys meeting the service users.
"I enjoy doing the first visits, it's nice to meet people and their families and get a picture of what they're like," she continued. "You can't really tell what someone's like from the phone, so it's nice to go and meet them."
Mrs Stephen still manages to fit in two evenings of regular care work, and likes getting to know the people she visits regularly.
"Some people you do see on a regular basis, and you do get to know them, which is lovely," she added. "You do get to become part of their life and their family – although, of course, there have to be boundaries."