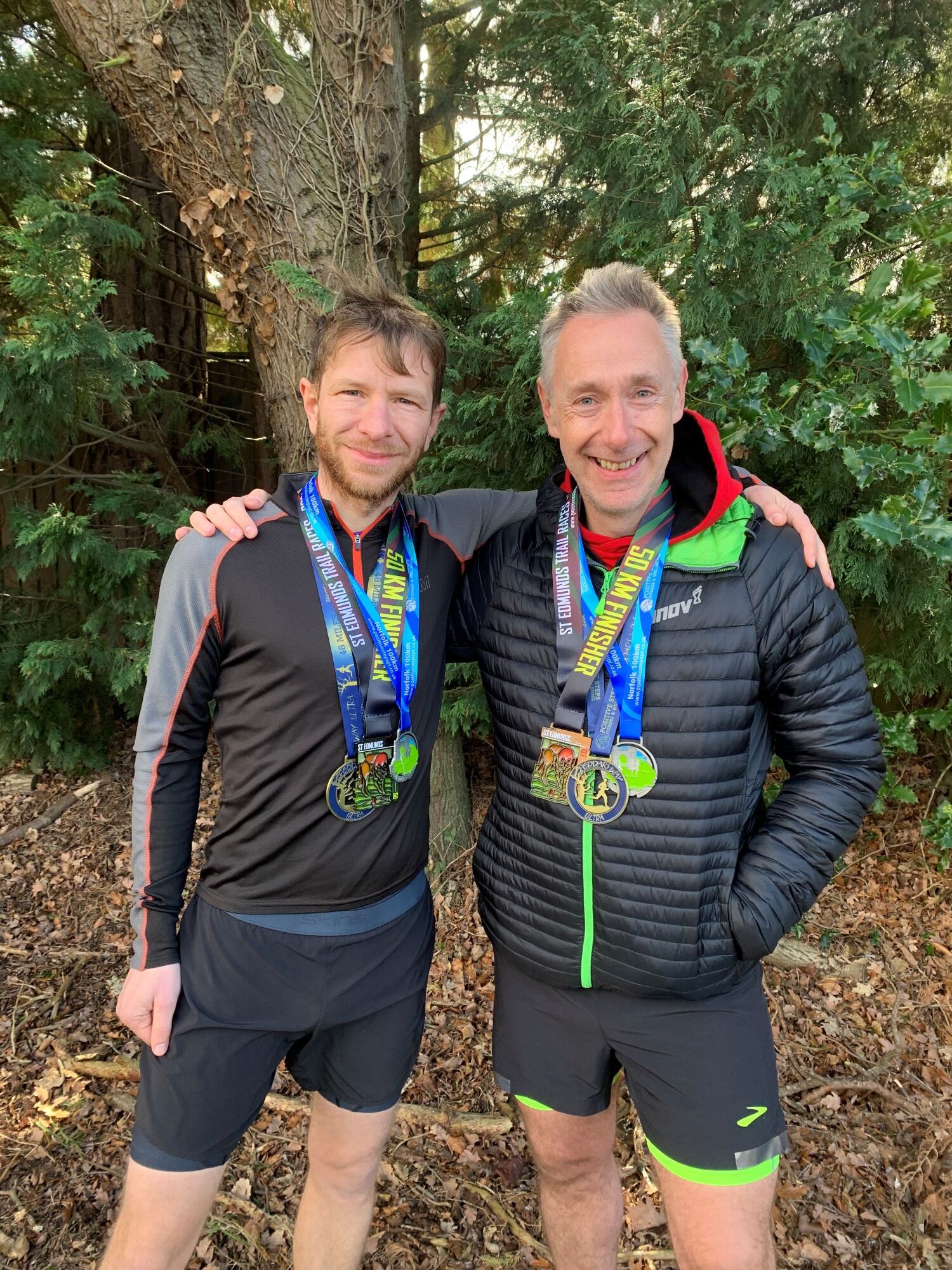 Two experienced marathon runners have pushed themselves to their physical limits by running 142 miles while battling serious injury and a major medical setback.
Firm friends Neil Gayton and Martyn Benstead took part in the Positive Steps Grand Slam, a series of three endurance ultra runs across the countryside of Norfolk and Suffolk, which must be completed in the space of 12 months.
But just before they were due to start training, Martyn suffered a detached retina in his eye leaving him visually impaired and unable to cross a road alone.
Coupled with Neil damaging his foot, pulling a hamstring and Martyn suffering a problem with his other eye, challenge completion seemed in serious doubt.
Despite all the setbacks, the pair, who are also work colleagues at chartered accountants and business advisors Stephenson Smart, completed the gruelling trails just inside the year.
Positive Steps Fitness and Wellbeing is an organisation hosting trail challenge events and races from half marathons to 100km across East Anglia.
Martyn and Neil, who work in Fakenham and King's Lynn respectively, began with running The Peddars Way, the second longest course of 48 miles in January 2022.
They followed this in June with a 100km trek, the equivalent of 63 miles, beginning at Castle Acre and ending at Beeston High School along the Norfolk Coastal Footpath.
Their last, and shortest at 31 miles, took place in December beginning and ending at Ickworth in Suffolk.
They have since been awarded with a special tankard for their efforts.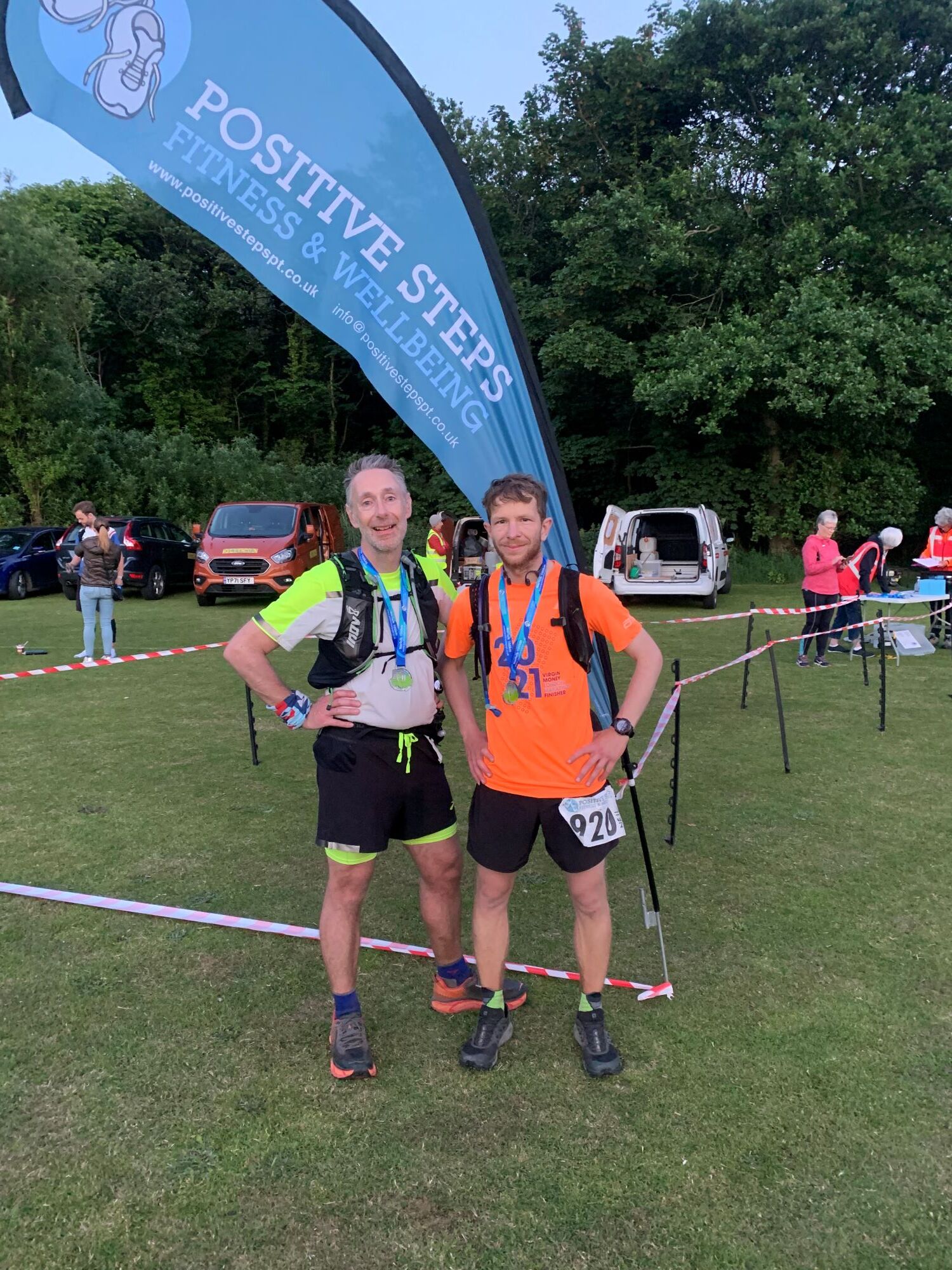 Martyn said: "We've known each other for years through working together, but we're good mates and have become closer friends since we began running and training together.
"During lockdown in August 2020, I had a detached retina and I lost sight in one of my eyes. Neil was brilliant by offering to go out for a walk with me as I was at the point where I couldn't cross a road safely.
"Running is a massive part of my life and not being able to do it really affected me mentally and physically as I couldn't do it for at least two months, so I had less training than I would have liked to.
"We needed to complete three courses in 12-months, but it did look in serious doubt as I then had a problem with my other eye, which put the third event in jeopardy. Neil then pulled his hamstring not long into the course.
"Neil is much fitter and stronger than me and I never had a thought that something would happen to him, but when he became injured it occurred to me that it would all mean nothing if he couldn't finish it too. I would have piggy backed him to the finish line if I had to."
Neil said. "I felt like I was being held up by gaffer tape at the end. During the first event I had a problem early on with the top of my foot, the second was easier as I didn't have an injury, but during the third I knew something wasn't right and it was a real struggle to make it to the end. We went into survival mode, but after many obstacles we achieved it and we're proud of that."
Food was key during all three treks with some interesting snacks consumed, including flasks of soup, cherry bakewell tarts and salt and vinegar crisps.
Neil said: "Trail running leads on naturally to longer runs. Having done a lot of marathon running, I think we wanted to do something where we could set ourselves a personal challenge and also enjoy our countryside at the same time."
Although there's no events planned for the immediate future while Neil recovers from injury, Martyn said he knows Neil will have something up his sleeve.
"He's always thinking of something we can have a go at. The obvious one would be Lands End to John O'Groats, but we'll have to think about that!"