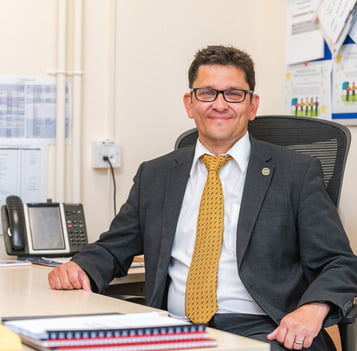 A West Norfolk headteacher has criticised parish councillors after an appeal for a land swap to deal with parking problems was turned down.
Craig Jansen (pictured), the head of Marshland High School in West Walton, has written to the council saying: "It was clear from my very first meeting that many of the parish council members had strong negative views in respect of the school and its place in the community."
The council was asked if the current village playing field could become part of the school and an adjoining piece of land owned by Marshland High could be given to the village as a new playing field.
But West Walton Parish Council turned the request down. In its minutes, the parish council says: "The recommendation is that there is no land swap and the playing field remains as it is as it is beneficial to the parish. We will endeavour to keep a dialogue with the school about the parking situation."
Head Mr Jansen said: ""Our school is part of our parish and a significant  number of our student population reside within it. A comment from one councillor saying 'I can see how it benefits them but what is in it for us?' was incredibly disrespectful, showed a disdain for the school and our students, and could easily be interpreted as self-serving."
The school's proposal said the village playing field was regularly used by pupils for PE and has an entrance shared with the school. The school's own field was used infrequently because of its distance from the buildings, but with a new path it would have separate access.
A new sports pavilion or gym would be built on the school's new field which could also be used to host events for residents and external users while allowing the students to enjoy new facilities.
If the swap had gone ahead, extra parking would  have been created to alleviate huge problems around the school and it would have looked at the possibility of installing CCTV to oversee the new car park, relocate play equipment and create a covenant so the land couldn't be used for future development.