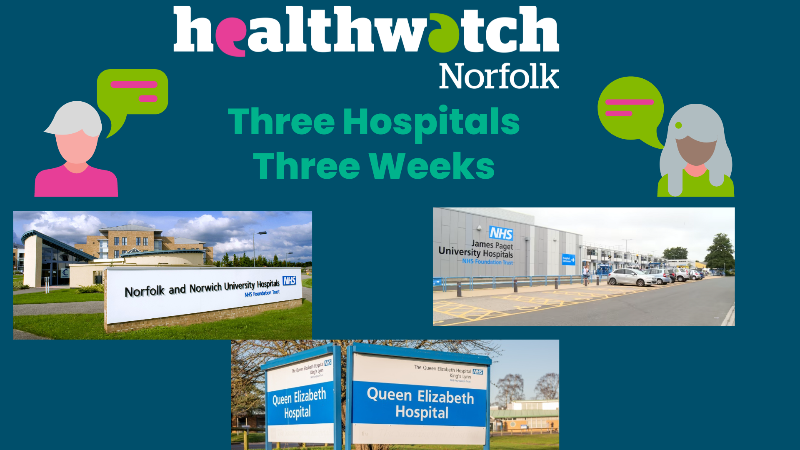 West Norfolk patients have given their views on the care and support they get in hospital in a new report.
Healthwatch Norfolk visited the Queen Elizabeth Hospital in King's Lynn, plus the Norfolk and Norwich, and the James Paget in Gorleston to find out what people think.
Earlier this year, they published one just on what they found in Lynn and have now combined all the findings together in a new document finding out the situation across
In total, they got 1416 responses, made 56 observations, and received 37 experiences from staff.
Most people said they were happy with the hospital care they received complimenting the help and support they received from staff and described them as kind, friendly and understanding despite the pressures they were facing.
Many also told us they felt they were treated as individuals and felt involved in decisions about their care, although some inpatients, those with long-term conditions and with disabilities wanted more of a say in their care.
Patients also told the Healthwatch Norfolk team communication was very important, with some telling us they had to repeat themselves to multiple departments, and there were also discharge delays because of problems setting up care in the community.
Other concerns included waiting times in clinics and Accident and Emergency with people not always being given an indication of waiting times, and issues with parking particularly for those with disabilities and limited mobility were mentioned at all three sites.
General comfort was also mentioned with a lack of chairs and temperature control in some areas, and some patients also found it difficult to get food that met their dietary needs.
Based on what they were told, Healthwatch Norfolk is recommending to hospital bosses:
Ensure staff continue to work to the values of 'kindness, dignity, and respect'.
Ensure communication with patients and carers is clear and up to date.
Review food menus and ensure patients receive appropriate meals.
Improve understanding of patient journey which may lead to anxiety or frustration and impact patient mood.
Improve discharge process and manage expectations.
Explore experiences of those on waiting lists.
Alex Stewart, chief executive of Healthwatch Norfolk, said: "We hope the feedback we found will give the hospitals lots to work with and learn from and hope to repeat the exercise in the future at other hospitals in the county.
"Finally, we do want to say a big thank you to everyone who took the time to share their thoughts, views and experiences with us, and to all the hospitals who worked with us to help make the project so successful."
Find out more in the video below: