Cllr Harry Humphrey will be nominated as Mayor of King's Lynn & West Norfolk and as Chairman of the Borough Council of King's Lynn & West Norfolk for the coming year at the mayormaking ceremony on Thursday 20 May at King's Lynn Town Hall, with Cllr Lesley Bambridge being nominated as his deputy.
Pic: BCKLWN
Harry has an Electronic Engineering background working on radar and acoustics in the Royal Air Force and Plessey Engineering. He had a business in London making, supply and installation of sound systems, as well as running a team of DJs.  Following his move to Norfolk, he changed careers to Independent Financial Adviser until 2012 and is now retired.
Cllr Humphrey was elected to Norfolk County Council in May 1993 as the Member for Marshland South, which runs along the Norfolk/Cambridgeshire border. He had a varied portfolio which included Opposition Spokesman, Cabinet posts and Deputy Leader and interaction with the Local Government Assembly, Regional Assemblies, MPs, and Ministers. In 1995 Harry was appointed as a NCC Member of The Norfolk Police Authority till the abolition of the NPA in 2012.
He was elected as a member of the Borough Council of Kings Lynn & West Norfolk in 1999 for the Emneth Ward (now Emneth & Outwell Ward). On the borough council, Harry has been a member of various committees and panels and Chairman of Resources & Performance Panel and the Corporate Performance Panel.
Over the years of his involvement with local government, Harry has recognised the importance and need of the service provision and responsibilities to residents, communities and businesses provided by our authorities from parish councils to Government. He also appreciates the great work done by the voluntary sector and will endeavour to support them where he can.
Over his year as Mayor Harry intends to promote, to the best of his ability, the interests of west Norfolk and the many attractive features of the borough, our countryside and history and the opportunities for visiting, working, and creating new business.
He is delighted for the opportunity to be Mayor and for the Mayor's Charity, Harry's main theme is West Norfolk Young Carers together with Riding for the Disabled.
Cllr Lesley Bambridge has been nominated as Deputy Mayor.  Lesley was brought up in west Norfolk. Her family lived just outside Wisbech in the parish of Emneth.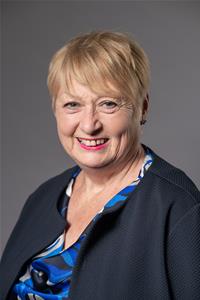 Pic: BCKLWN
She attended school in Wisbech and later what is now the College of West Anglia but then was known as "the tech".
Her family then made a move to Brancaster and Lesley started working for Jaeger in King's Lynn and then later in London at their head office. She continued working in London for about twenty years and went on to work for Mecca, the entertainment company and later in PR, advertising and sales promotion.
Upon her return to Norfolk, Lesley had a variety of jobs. She was Marketing Manager for the King's Lynn Festival and Arts Centre, Advertising and Promotions Manager for the Isle College in Wisbech and latterly for the education business partner organisation for Norfolk helping young people find out about the world of work which involved finding work experience placements, running events in schools, setting up mentoring schemes and organising visits to industry.
She spent some time as a member of Trinity Rotary and was their first woman President. She has volunteered for various organisations: the Child Contact Centre, the Winter Night Shelter, as a Trustee for West Norfolk Carers and has been a school governor for over twenty years.
Lesley has been a Borough Councillor for a town centre Ward for some 12 years. She currently lives near St Nicholas Chapel but knows West Norfolk well having lived in villages as well.
Cllr Geoffrey Hipperson, the outgoing Mayor, who has been Mayor for two years due to Covid, had a few words to say: "Although I have thoroughly enjoyed all my time in the role, after a year as deputy and an unexpected two very different years as mayor, I am happy to be relinquishing the robes to another councillor on the 20 May.
Mayormaking takes place at the Town Hall on Thursday, 18 May 2021.  Spaces are limited due to continued social distancing practices in place.