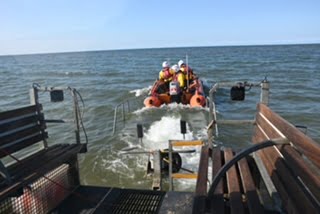 The Wells lifeboat crew dealt with two incidents on an island off the coast.
They firstly helped a family who got cut off by the incoming tide at Scolt Head. Two adults and a child were stuck on a sand bar as the water rose.
The trio were helped on board the lifeboat and taken to the other side of the Brancaster channel and dry land.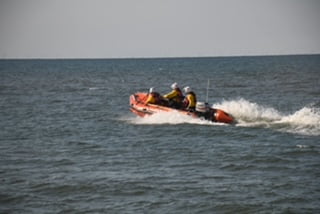 Two minutes later, the crew were called back to Scolt Head after coastguards reported a fire caused by a disposable barbecue.
They stayed on scene to support the fire-crews who were taken to the scene by private boats.
Within about two and a half hours, the inshore lifeboat and its crew were stood down.
Greg Hewitt, Deputy Launching Authority, said: "Both incidents could have been avoided today. Knowing the tide times is essential when out on our coastline. People need to be back on the mainland four hours before high tide otherwise there is a severe danger of being cut off as this family were today. Fortunately, the Coastguard was contacted, and we were able to reach them in good time."
*Pictures, Ray West